When you see so numerous accessories for such expensive and fully equiped bikes as the KTM 990 Adventure S or BM R1200 GS"A" & HP2, you can think an Adventure bike is just a lot of accessories around a frame and a motor.
From this start, I've started to play a very funny game : finding as many accessories as possible for the KLE to achieve its transformation into an Adventure bike (I can't think of a better word for it). We sometimes come across the words "Enduro Touring", but I don't think this expression gets closer to the concept.
Of course, the Net is the perfect tool for my game, among other sources such as bike or accessories dealers, or other bikers.
If you want to hear the sweet 500 KLE noise, clic on this icon:
I'm not really trying to find evidences of the KLE skills for adventure : many a biker has done great things with it, for instance Walter Surini.
He runned Paris-Dakar race with a duely modified KLE. Follow this link
http://www.motowinners.it/spazio%20interviste/Surini%20Dakar%201992.htm
This is a new link : the old one didn't work anymore.
Yet another Italian adventurer : Giovanni Poli : you can visit his website with a clic on the photo underneath.
Notice the big tank (where do they get those ?). I like the project : Milan-Akashi (Kawasaki home town).
Click on the image to visit Giovanni's website

Another interesting experiment : building a new bike, starting from a Kawasaki 500 twin :
http://www.rallytwin.com/
Here it is :
Notice the exhaust pipe above the motor case. Nothing stock on this bike : it's a prototype. Bags are from Jesse-Luggage (see luggage page).
A picture of the frame and its "exoskeleton" :
(clic to enlarge this image or the previous one)
Other people have been around the world with bikes I wouldn't have thought of for the job, for instance a Yamaha R1 :
http://www.sjaaklucassen.nl/
Let's see now what can be done to improve the KLE:
*
All-Terrain skills
: things easy to be changed :
- Tyres : my choice : Continental TKC 80 :

That's the one BMW offers as an option for the 1200 GS Adventure.

Notice : speed limit 180km/h (112 mph). Not a problem for the KLE...

- gripsters, to prevent valve tear-off,
and or...
Maybe you too would like to have a stronger engine protection than the standard one. I couldn't find any until today (2010/8/10). So here it is. You can find it at http://www.kle-500.de.ms/, on the German KLE Club site. Click on Technik in the left menu, then Zubehör at bottom right, then see at the end of the page : there's an e-mail address.


- Final ratio : one tooth less for the gearbox pinion (16 instead of 17), not very different on dayly rides, but in all terrain use, the engine gets more convenient.
More difficult :
- up positionned mudguard : I found the picture on the right (with full explanations) on the German website dedicated to KLE (http://www.kle-500.de.ms/), but the example is shown on the previous model, and I'm not sure it would fit the new one and its longer "nose".
The bike on the back has its standard mudguard.
You can notice other interesting details on this picture : Touratech lights, and a second horn on the right side of the frame. Actually, the other one seems to have two horns too : German laws ?
On my bike, I used this nut to screw the antitheft support.


Andreas, the owner of this nice bike, contacted me and gave us further informations. He's set up a Touratech fog light on the right, and a xenon one on the left side.
He choosed the plates intended to fit Honda Varadero :



*
Improving crash resistance :
- handlebar : standard handlebar clamps are 45° backwards, so you can't put risers on without getting too far back. So maybe a better way to have a higher handlebar is to change for a higher one, for instance a quad model :
Anyway, we intended to change for a tougher one. Talking about risers, you can also find adaptors to switch to those new, modern, fierce 28,5mm handlebars :
That was my opinion until 2007/07/04. But I just changed my mind : look :

Rox risers


Rox, with silent blocks


How you can put them on a bike

Nice kit at SW-MoTech's : oversize bar and adaptors :

KLE reference # : LEH.00.039.168/B (B for black)

For healthy people, the damping bar called "nonshock" :


Needs adaptors, same as above, or those "varios"
(which can be lengthened, as you may guess by th picture aside) :
- engine/fairing protection : you'll find some at Hepco & Becker 's :
or SW-MoTech's :
(clic to enlarge)
This one doesn't have any bar in front of the radiator, so you can crash without to make a damage that would stop the tour.
- hand/levers protects : we need something tough :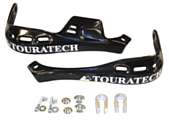 or
(clic to see bigger pictures)
Another solution, with the "NonShock" bar :
:
(GPS support available, too ...)
One last remark regarding hand protectors : a guy I once met had old 1100 GS handguards on his KLE, and they fit quite well. They are a good solution : hard enough, and rather light, with no metallic part.
* Protecting/replacing breakable parts :
- light protectors :

2007/07/05 was a happy day : I found some fine KLE accessory : this->

Don't focus on the picture. It's not a KLE, but the KLE is into the fitting list, and in both versions, prior 2005 and the the last one. See for yourself :
http://www.ventura-bike.com/content/fitments.aspx?manufacturerPK=105&modelPK=3457
Now I'm waiting to know something about european distribution of the product (e-mail sent). Well, they're not answering, but I've found some french dealer of Ventura products : another email : no answer..


- Tank protect and bag support, all in one, matching bike color :
- sump guard : the standard one is quite light, but nobody seems to sell a tougher one. I'd like to find one on a wrecked bike and try to use it to double mine. Maybe that could work.
- rims : specialists seem to be in Japan : D.I.D. , Takasago (EXCEL rims)... One could change for better spokes, hubs or bearings, but it might be expensive.
* Comfort :
- saddle : I could find nothing ready made for KLE, but our local upholstery shop can do wonders (thanks Hervé for your test and advice) :
Here's a more professional example, with a nice flat part to sit on :
- suspensions : no problem : nearly all makes have something for us : fork springs, shock absorbers...
you even find high tech rear shock springs (Wilbers) for the stock absorber :
And you can find jack up (or down) kits there :
-> :
http://www.bikefarmmv.de/FR/hoeherlegung/zeige_artikel.php?fid=200207
.
* All-terrain ride
- rallye footpegs : my solution : Touratech-for-BMW ones fit perfectly. You'll just have to add some springs (see your KTM dealer, for instance...)
(clic to see the big picture)
But if you sometimes ride with light shoes, here's a good solution : removable pads on dented pegs, at SW-Motech's :
KLE part # :
FRS.01.011.10100/S


- position (higher handlebar, as seen before)
- higher saddle for a quicker and easier posture change, but we already changed it for comfort purpose
* Brakes
, I must admit this KLE's weakness :
Of course there are steel braided brake lines, but also :
"Wave" front disk :
and that :
(from "Braking")
Both of these are KLE specific parts.
* Tough bags : I've put it on a new page : this one was growing too much, and I've found new products to add to the topic.
The standard luggage rack is rather weak, and doesn't fit all top case adapters. Happy customers will find this device at SW-MoTech's :
Metal plate to replace the standard one :
to which you'll just have to bolt the right adapter for your favourite top case brand :
Notice the 3 adapter fixing holes, same on the plate and on the left photo above.
I also found some tank sidebags :
Happy Trail resells Wolfman's :
who does some nice tankbags too :
but I don't know if it's worth shipping. Maybe if you bought the panniers, you'd ask them to put the bags in.

Kolpin is a quad accessory maker. Prices seem to be ok, and products seem to be easily found.
Maybe those tank sidebags would feet the KLE :

Or maybe among Touratech's tankbags with side extensions one of the other bikes bag can fit. As usual, they do it for a lot of bikes except my favourite one...


* Big gas tanks, water transportation
- Canisters, supplementary tanks : here are some items :
- At Touratech's : for gas (2 litres) ,
+
,

For water, or for a camping heater gas bottle
(this one is for 2 bottles, exists for 1) :
to be screwed or riveted to alu cases...

- At
Acerbis
' : for gas (ok, top cases are for commuters...) :
, for water :
-

Kolpin

makes this ATV fuel pack, that can fit adventure bikes :


See mounting example beside. Photos courtesy "OrangeSageBrush"








- special tanks. Unfortunately, you have to choose between special creations, home made stuff or adapting other bikes accessories :
Well, it's not a KLE, but I needed a picture to imagine a special tank set.
And now a handmade modified tank on a KLE (20 litres instead of 15) :
(First found on
http://www.kawasakikle500.it/node/462
, where there's a link to our hero (the one and only KLE tank modifier) site :
http://web.vip.hr/nikola.mrakovcic.vip/index.htm
)

I recently found a specialized company's site, but as an american one, they sell nothing for KLE.
Anyway, one might find a way to adapt one of those products...

Here's the spot : http://www.justgastanks.com/store/ and 2 products among a huge range :


If you've not enough, here are some other ideas for your next father's day or other gift occasions :
| | |
| --- | --- |
| - Compass, tripmaster, bike computer (can be used to replace the stock instruments and make room for others) | |
| - GPS, roadbook holders | |
| - (lighted) map pocket : | |
- cigarette lighter socket or bike socket :
Windshields : I like this one from MRA. It's intended to go on Z1000 but can fit KLE (2005 and later) as well :
And there are many others...

- heated saddle (cover) : this Kolpin's stuff :
(You also find heated saddle kits at Hein Gericke's, and comfort "gel" covers at Kolpin's)

- heated grips : basic accessory for any bike

Center stand : not very pretty, but useful.

I found those items, but I'm unsure of their adventure value :

Some Kawasaki "genuine" accessories :

And at last,
performance improvement
: key items :
- air filter :
- exhaust system :
(clic on images above to visit Laser or Arrow's websites)
Another nice product : the australian Staintune's. I like the way they keep using the stock heat guard.
They claim more than 4 kg lost, and 2 more HP, unfortunately without to say whith or without the "db killer", Good job for a slip-on.
And if you change your mind, they supply the needed part to put the old muffler back on.
The price is a little high in Australia, and much worse in UK, sole european country where I could find it.
- carburettors
- camshafts (notice the KLE is among the very few bikes on which you can change camshafts for performance ones easily. You just have to find a GPZ engine at a low price, or buy the GPZ shafts at your dealer's).
Some clever German people have published on KLE performance improvement : (
http://www.dernacken.de/kle-tuning2.html
). Other people translated it in Italian(
http://www.kawasakikle500.it/node/398
).
I translated it
in french
... I dared to add some comments. Hope they'll forgive me. And I even tried to translate it
in English
.
Sorry, I won't try Japanese !
Maybe you're lost in the site. You can
clic here to go back to main page
.